Atlantis Madeiran table wine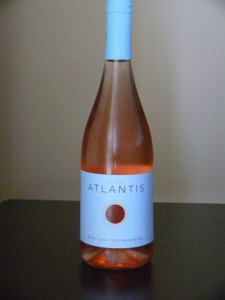 Atlantis Madeiran table wine is the trailblazer of Madeiran table wines from the Madeira Wine Company Blandy's, first appearing in 1992 this wine, Atlantis Madeiran rose is a table wine made from the Tinta Negra grape.
The Atlantis Madeiran rose wine is quite widely available – especially through the Blandy's wine lodge in Funchal, as well as many retailers and it is now often seen on the wine list of restaurants.
The rose wine is crisp to sharply refreshing – it's a zinger and is well suited as an aperitif or as an enjoyable refreshing wine on a sunny evening. This is the antithesis of Mateus rose with quite a light pinkish hue that is almost translucent and best served well chilled.
This wine will accompany the famous Madeiran dish…beef on a skewer: Espetada and would work well with lamb dishes as it will really cut the mustard, horseradish and more.
Blandy's are working hard and listening closely to consumer preferences with this wine and it was part of the Madeira table-wine tasting set at the Blandy's lodge in August 2015 shown below.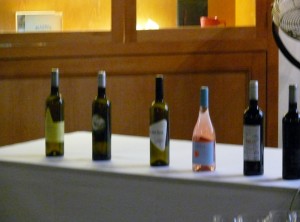 Here is a list of other Madeiran table wines Barbusano,  Cabeço da Queimada, Casa da Vinha, Colombo,  Enxurros,  Palmeira e Voltas, Pedra de Fogo, Ponta do Tristoa, Quinta do Moledo, Quinta do Ribiera, Reis da Cunha, Seiçal, Terras do Avo, Torcaz, Xavelha