Bual or Boal Madeira wine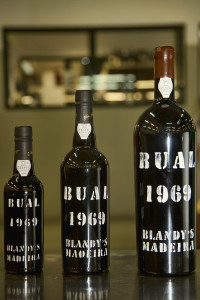 Bual or Boal is a dark and fragrant wine, which is sweet to the taste without being cloying, as it has good balancing acidity.
If the richness and sweetness of Malmsey is not tempting, then this is an excellent choice for a dessert wine.
Round rich and with a distinct spicy note, Bual is usually a light copper colour medium sweet with notes of fruit.
Boal ages well and the greater the age the more integrated and interesting the wine becomes.
Luscious – like opening the sweetie tin 
With Bual we are moving towards what Madeiran wines have been so famous for; a rich rounded smooth sweet and mellow taste. Different Buals exhibit different characteristics, and Boal tasters have identified vanilla raisin and other dried fruits as well as butterscotch.
With cheese

Bual is often served in Madeira to accompany a cheese board ordered at the end of the meal, which will often be accompanied with sweet fruit preserves. Boal is ideal to accompany cheese and fruit or fruit preserves. Typical Portuguese cheeses that would accompany Bual are Evora, Nisa, Serpa, Pico and Terrincho.
With chocolate
Bual will also accompany dark chocolate, chocolate with a cocoa count of 75% or more is an ideal partner with a glass of Bual wine. Bual and dark chocolate together make a superb decadent indulgence on a chilly winter's evening. Bual – the chocoholics wine!
With Pastries
When in Madeira for an afternoon treat order a pastel de nata pastry from one of the many café's…..and enjoy a glass of Bual with this Portuguese favourite.
With Snow on the ground
When you need a sunshine top up in the middle of a Northern winter, a glass of Boal will help with all that fruity warmth shining through.
Bual is grown in reasonable quantities in Madeira and is found in a select number of Madeira Table wines ( for example Palmeira e Voltas Madeiran table wine where it makes a marked contribution), and you can read more about this unique grape: Bual or Boal in Madeiran and the eight Madeira wine bottlers who produce this elegant wine.
Between 50,000 and 60,000 litres of this wine is produced on Madeira annually. The majority of this wine will be produced using the canteiro process.
The Producers
These are the producers of Madeira wines on the island at present, but the plethora of labels and brands available tells you that there were once a lot more.
Barbeito, Blandy's, Borges, D'Oliveira, Faria, Henriques and Henriques andJustino's