Reading the label: Styles of Madeiran wines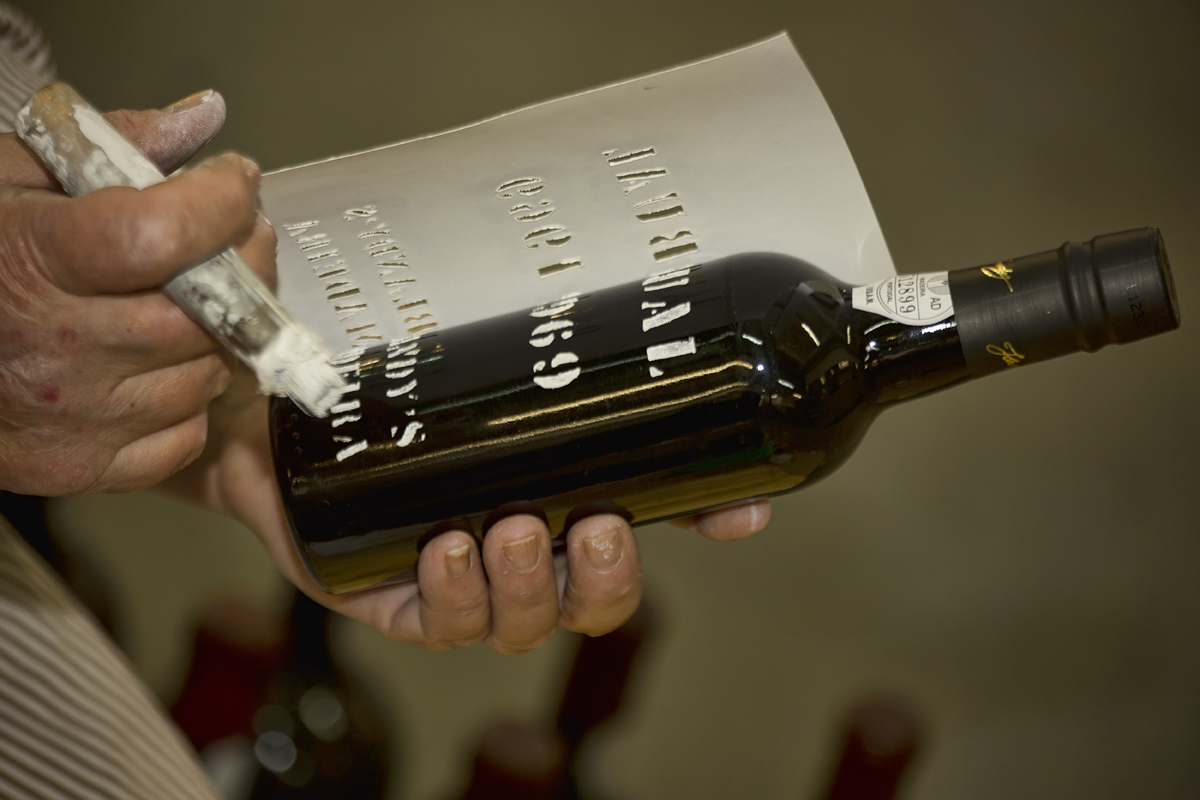 Such is the age of Madeiran wines still on the market, and the convulsions and changes to effect the industry over the centuries, and in particular the 20th century, along with the involvement of the EU and the continual "innovation" of producers and their marketing departments, it pays to take a little time to understand by reading the label on the wine bottle to ensure you understand the style of the wine in the bottle.
The wines produced from the Tinta Negra Mole grape are the most common, but often blended with other noble grape Madeira variants. In general the younger the wine the higher percentage of Tinta Negra in the blend. The name of the grape, Tinta Negra is not usually to be found on the bottle label.
Tinta Negra dominant wines wines are generally classified by age and sweetness/dryness on the labels as follows: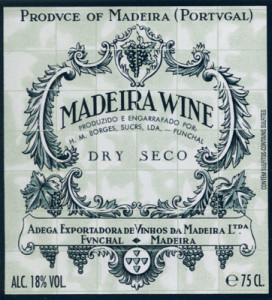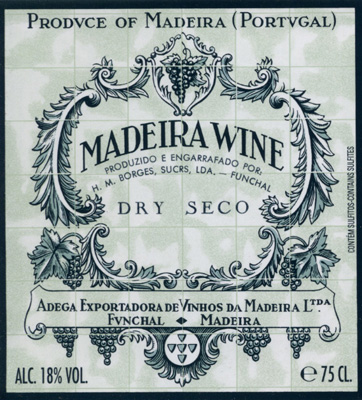 Seco    Dry – with the Tinta Negra Mole grape at the heart of the wine
Meio Meco    Medium Dry – with the Tinto Negra Mole grape at the heart of the wine
Meio Doce   Medium Rich/Medium Sweet – with the Tinto Negra Mole grape at the heart of the wine
Doce    Rich/Sweet – with the Tinto Negra Mole grape at the heart of the wine
The noble grapes title refers to wines produced from single grapes, they tend to be more expensive as the grapes are more difficult to grow and are most often produced by the Canteiro method of maturation, they are
Sercial    Dry – the driest of the "noble grapes" and the best are usually 10 years old or more. Sercial works as an aperitif, especially with salted almonds and will accompany spicy foods very well indeed as well as more robust fish dishes.
Verdelho   Medium Dry – great with cheese and delicate fish, a wonderfully versatile wine. Verdelho is able to transcend sweet and savoury foods so cheese and grapes or apple for example can be enhanced by this tantalising wine.
Terrantez   Medium "Off Dry" and enticingly different and exceptionally rare, but hopefully on the way back,,,do try and buy if possible to keep this style of wine alive! This wine will accompany dishes such as consomme and rich pate exceptionally well.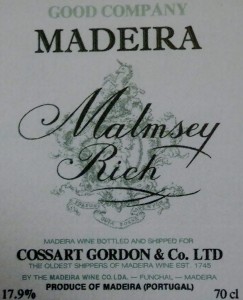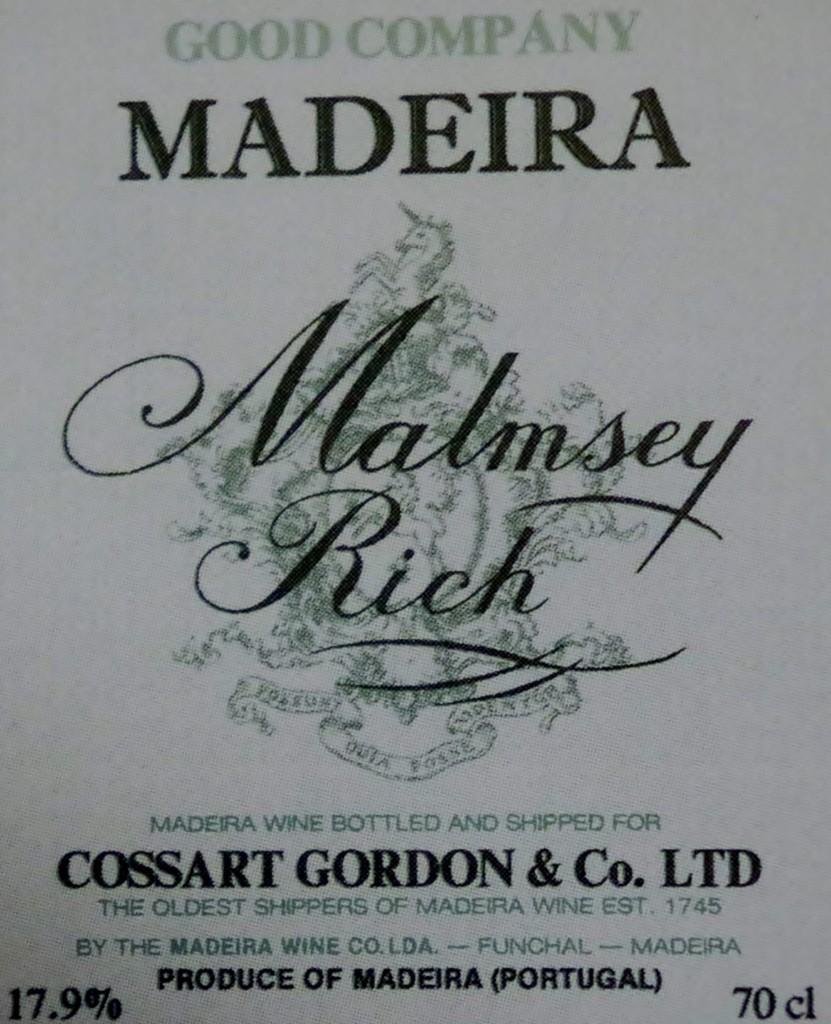 Bual (Boal)   Medium Rich/Sweet – another versatile wine, wonderful with pudding and fruit. If you choose Wensleydale cheese to accompany your Christmas cake this is the wine to partner that particular delight perfectly.
Malmsey (Malvasia)  Rich/Sweet – the world's first luxury brand…sweet and smooth. Ideal with rich puddings, Christmas cake and dark chocolate, as well as fine coffee and cigars.
What the Age means:
Most Madeira wines clearly state the age of the wine, the youngest being 3 years old which is the minimum by law, then 5, 10, 15 and 20 being typical ages of the wines offered without reference to a specific year. Most restaurant wine lists provide listings of Madeira wines available in these age categories.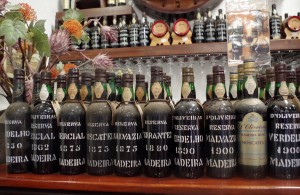 There are still a great number of individually labeled wines showing a specific year available, dating back to the early 20th century and before……this really is drinking history personified.You can find aged Madeira wines at the bottlers and several retailers on the island.
Labels and styles of Madeira wine:
Colheita Wines are wines of a single year growth that have been aged in a cask for 5 to 18 years. They are a quite new style of Madeira wine. The year of production will be on the label, as will the single grape variety, usually one of the noble varieties. Colheita were introduced in 2000 by Blandy's, and are offered by Blandy and Cossart Gordon and Barbeito. It is possible to find very old wines referred to as Colheita.
Other producers are joining the trend, sometimes using the term "Single Harvest" – (see below) these are wines from the Tinta Negra grape.
Vintage (Frasqueira or Garrafeira ) For a vintage Madeira the wine must have spent 20 years or more in a cask, and be of a single grape variety. These bottles usually have a hand stenciled label showing the grape and year of production. Vintage Madeira's dating back to the early years of the 20th century are quite common.
Soleras Such as those sold by Henriques and Henriques are Madeira wines of great age. This form of production was outlawed by the EU in the 1980s as a series of reforms were introduced to improve the quality of Madeira's wines and clarity of denominations. As the name implies a Solera style of production was followed, similar to how Sherry is produced. Wine is removed from the cask and younger wines added from later years production over a period of time – several years, often at the discretion of the producer, who may remove 10% of the wine annually for several years, or just remove a percentage on a more ad hoc basis, depending on the quality of that years wine production.
Solera wines are rare, and therefore quite expensive, but remember, that date of production is not a complete guarantee that all the contents date from the stated age.
Old Reserves /Special reserve  A title given to wines that are over 10 years of age, and seen on the white stenciled bottles. The wine is one of the noble grapes, and all wines will be a minimum of 10 years old. They will be the work of a blender using different barrels to produce a consistent style for which the producer is known for.
Extra Reserve is a term used for wines of greater age by producers such as Barros e Sousa . Some producers use the stenciled bottle to present their wines, others such as Henriques and Henriques and Blandys use smart labels.  There are wines of great age often presented as Old Reserves with little or no detail provided.
Finest  Used for the 3 to 5 year old wines.
Reserve  generally attributed to Madeira wines from 5 years of age and up to 10 years old.
Extra reserve 15 year old Madeira
Single Harvest Wines produced from a single harvest, often including Tinta Negra grape wines, and bottled in quite limited numbers.  Barbeito produces a range of Single Harvest wines, which have won several awards and sell out quite quickly.
Single Cask Wines produced and bottled from one specific cask, where the choice of Oak used and the freshness of the barrel will have some considerable influence on the wine, producing a unique wine. It is usually the case that grapes from a single vineyard are used to produce these unique wines.
Single Grower  Leacock's  St John's is an example of a very early single vineyard Madeira wine, however no specific location exists today.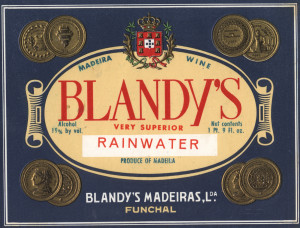 Rainwater This is a generic term for a Medium Dry Madeira, of a lighter style of Madeira, and it makes an excellent aperitif. The term is a hugely historic term and emerged from the United States, and legend has it that a shipment of Madeira wine barrels were left uncovered or uncorked for some time in heavy rain. Non the less the wines were sold and proved hugely popular, due it is thought to the thorough soaking/dilution received, that produced this lighter wine style. This wine is recognised by www.vinhomadeira and must be at least 5 years old, and is generally very good indeed.
Blending Madeira
Just when you thought it couldn't get any more complicated:
Blends Growers are trying ever more innovative approaches to producing more approachable Madeira wines to attract new drinkers. Unless the wine is a Colheita or listed as vintage, the wine is likely to blended in some way, from differing ages of wines and even when listed as a noble grape variety could contain up to 15% of an alternate wine. Sorry to confuse you……
Alveda  Blandy's produced this blend of Bual and Malmsey (Malvasia), as a 5 year old wine. This wine is usually offered on completion of the tour of the wine lodge and is a very enjoyable wine to end the tour with.
Reservas Signature wines as Barbeito describe them are the marrying of Verdelho and Bual, each produced by a single grower. These are branded VB Reservas.  Alternate approaches have been to blend differing vintages of Malvasia  to produce wines blended of young and old wines, producing limited editions with numbered bottles.
The Producers
These are the producers of Madeira wines on the island at present, but the plethora of labels and brands available tells you that there were once a lot more:
Barbeito, Blandy's, Borges, D'Oliveira, Faria, Henriques and Henriques and Justino's