Bastardo Madeira wine
Bastardo Madeira wine is still an authorised variety of Madeira wine, but one which is very rare indeed.
Old bottles do exist and can be found for sale from time to time, but production today is very limited indeed. Rumours circulate of individual casks maturing in the wine lodges.
The US based Rare Wine Company offers a Bastardo dating from 1927 bottled by D'Oliveira.
The reputable Lisbon based Garrafeira Nacional also offers a 1927 D'Oliveira Bastrado.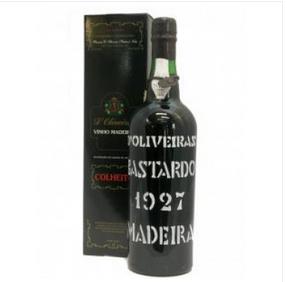 Bastardo, long considered as one of the noble grapes (castas nobre) is a black grape.
These vines, Cossart (1984) tells us were not re-planted after the phylloxera epidemic as they were considered "shy bearers" and wine production has never been great.
Cossart tells us that the wines were dark, rich and heavy and as they aged they delivered a powerful yet refined flavour.
Bastardo can develop a bitter aftertaste Cossart also notes.
Cossart and Gordon were offering Bastardo of great age into the 1950s. This wine was also used in a famous Solera. Soleras appear to have died out, though bottlings from some very famous Madeira Solera matured wines do occasionally appear for sale.
IVBAM data tells us that small amounts of Bastardo are still being produced, in 2011 99 litres, in 2015 72 litres of production of wine for commercial sales (commercialisation) was recorded.
It is t be hoped that like Terrantez interest in this wine will stimulate further production and this interesting wine will make a comeback in years to come and go from being a costly curiosity to something for Madeira wine connoisseurs to enjoy, write about and further enhance the reputation of Madeira wine worldwide.
There is now a 21st Century Bastardo available, launched in 2019 by Barbeito and while there is only 1700 bottles it is affordable and accessible. Great news as another Madeira wine once almost lost is making a comeback.