Torcaz Madeiran table wine, Red and White DOP Madeirense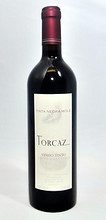 The red or tinta Torcaz Madeiran table wine is made from 4 grapes including Touriga Nacional and Cabernet Sauvignon.
The Torcaz house style is quite fresh and summery …and needs strong foods to tame it…..ask for it to be decanted as it is quite concentrated and difficult to appreciate when first opened. It will prove ideal with Espetada  and surprisingly duck, as well as other barbequed meats.
The Torcaz wines are quite highly regarded, but as with all Madeiran red table wines…..more time to evolve is needed, but here is a wine that is certainly evolving well and it knows what it pairs with best, that's the summer and barbeques and espetada in particular.
Here is a list of Madeiran table wines Atlantis, Barbusano,  Cabeço da Queimada, Casa da Vinha, Colombo, Enxurros,  Palmeira e Voltas, Pedra de Fogo, Ponta do Tristoa, Quinta do Moledo, Quinta do Ribiera, Reis da Cunha, Seiçal, Terras do Avo, Xavelha