Colombo Madeiran table wines IGP Terras Madeiranses are available as red and white wines.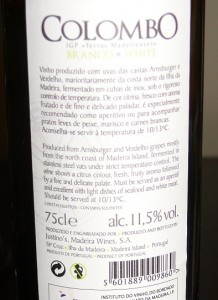 Colombo Madeiran table wines are produced by Justino's, who are one of Madeira's largest and reputable wine producers who offer both the Colombo table wines and the more famous Madeira wines.
Colombo red – tinta is made from a blend of Touriga Nacional, – usually about 40%, Complexa and the ubiquitous Tinta Negra. The result is a pleasant rustic red which is ideal with strong cheeses and cooked and well cured meats and rich game dishes.
Colombo white – branco is made from Arnsburger and Verdelho exclusively,….earlier iterations were pure Arnsburger and produces a fresh quite light easy going wine….almost perfectly designed for the casual glass as the sun goes down as an aperitif.
These wines are found in many retailers on the island, but less so in restaurants where wines from mainland Portugal still tend to dominate wine lists.

Here is a list of Madeiran table wines Atlantis, Barbusano,  Cabeço da Queimada, Casa da Vinha, Enxurros,  Palmeira e Voltas, Pedra de Fogo, Ponta do Tristoa, Quinta do Moledo, Quinta do Ribiera, Reis da Cunha, Seiçal, Terras do Avo,  Torcaz, Xavelha