Ponta do Tristão Madeiran table wine is an IGP Terras Madeirenses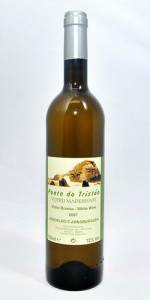 This white wine is now making an appearance on a number of restaurant wine lists including one of the leading establishments Armazem Do Sal  the Salt cellar which now offers Ponta do Tristão.
The wine is a Verdelho – Arnsburger blend, and as a DOP was 66% Arnsburger. The producer is Quinta do Barbusano, Lda based in São Vicente and  a number of other wines including a Verdelho Branca and Rose are produced under the Quinta do Barbusano label as shown in the picture below of their stand at the 2014 Madeira wine festival.
The red is also an IGP Terras Madeirenses made from Aragones and Touriga Nacional grapes in a very typical Portuguese mainland style of wine.
The 2010 vintage may well include the Malvasia Fina grape usually only found grown in the Douro and some other parts of Portugal. This shows the ongoing experimentation in the production of Madeiran table wines along with the IVBAM desire to limit the influence of Arnsburgur and improve quality and continue innovation.
This grape should bring a little more flavour and finesse to the wine beyond Arnsburger, with added depth of nutmeg and a touch of smoke, while the wine remains quite fresh and smooth with a mineral note.
Here is a list of Madeiran table wines Atlantis, Barbusano,  Cabeço da Queimada, Casa da Vinha, Colombo, Enxurros,  Palmeira e Voltas, Pedra de Fogo, Quinta do Moledo, Quinta do Ribiera, Reis da Cunha, Seiçal, Terras do Avo, Torcaz, Xavelha
Along with the Barbusano wines here is Ponta-do-Tristao on display at the Madeira wine festival in 2014