Tasting Verdelho Madeira wine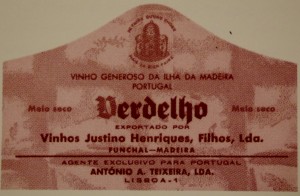 This is a gently rich wine and tastes almost medium sweet when young. Verdelho has a deep golden colour. Verdelho Madeira wine exhibits some of the most pleasing tastes, and in drinking Verdelho you will find notes of caramel, caramelized orange, crème brulee and dried fruits and figs as well as  some hints of wood. The finish is long and stays fresh with the citrus notes remaining to the fore.
This wine tends to taste drier and fuller with age.
Verdelho is the overlooked Madeira as the cognoscenti grow more interested in Sercial and the traditionalists focus on Bual and Malmsey.
With Savory dishes
Verdelho is an ideal wine for those who do not favour dry wines, and is remarkably versatile as a wine in its ability to enhance the enjoyment of both sweet and savory dishes.
With bread and nibbles
Verdelho can be served as an aperitif – lightly chilled and as such accompanies savoury appertisers very well indeed. It is particularly well paired with sesame and bread sticks.
With strong cheese and pickles
Verdelho wine will accompany richer cheeses exceptionally well, and the stronger and more smelly cheeses such as blue cheeses and Stilton, Camembert and ripe Brie. The wine is robust enough to accompany chutneys and other such sweet and sour preserves.
Typical Portuguese cheeses to accompany Verdelho would be Azeitão; Serra de Estrella and Amarelo de Beira Baixa
With fresh fruit
Indeed Verdelho is also excellent when served with fresh fruit such as apples and grapes.
With Espada
Verdelho is also an excellent accompaniment to one of Madeira's most famous dishes, Espada, the light delicate white fish, which is often served lightly battered and accompanied by lightly battered banana fried in butter and a fresh salad. Espada is a fresh delicacy unique to Madeira, and when served in this way with banana Verdelho works very well.
A Medium Dry (Meio Meco) Madeira wine has many of the attributes of Verdelho, and indeed an older wine, 5 years or more, is likely to contain a high proportion of Verdelho and quite likely have been matured in the canteiro method. (Learn more about Madeira wine bottles labeling).
The wines marketed as Rainwater are similar in style to Verdelho and may well include some Verdelho in the blend, but are labeled as Meio Meco-  Medium Dry with the Tinto Negra Mole grape at the heart of the wine.
Verdelho is beginning to be grown in increasing quantities in Madeira due to this wine making excellent Madeira Table Wine, and you can read more about this unique grape: Verdelho and the  Madeira wine bottlers who produce this wine.
Between 30,000 and 40,000 litres of this wine is produced on Madeira annually. The majority of this wine will be produced using the canteiro process.
The Terrantez grape that also produces a dry Madeira wine is produced in even smaller quantities, about 1000 litres in 2010 and 4500 litres is 2013. Terrantez is almost a cross of Sercial and Verdelho.
The Producers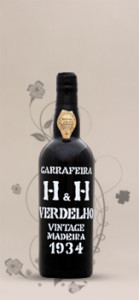 These are the producers of Madeira wines on the island at present, but the plethora of labels and brands available tells you that there were once a lot more.
A Verdelho like this from Henriques and Henriques will be quite expensive, but there are many more available and at 10 years of age Verdelho is quite quite excellent.
Verdelho grapes are being used more and more in the production of Madeira table wines as well.
Comparing a matured verdelho Madeira with a verdelho Madeira table wine is an interesting experience and gives understanding the traditional method of producing Madeira and the magical transformation that warming and aging in wood brings.
Barbeito, Blandy's, Borges, D'Oliveira, Faria, Henriques and Henriques and Justino's