Seafood and Madeira wine
Madeira is famous for its fish and here several of Madeira's most renowned chefs share their ideas of what Madeira wine will best accompany their wonderful recipes.
Bacalhau (salted cod) baked in the oven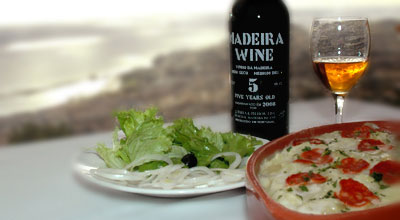 Bacalhau is perhaps (in fact without doubt) Portugal's national dish and is often found on the menu of many restaurants and seen for sale in most grocers and supermarkets.
This very traditional dish is recommended to be accompanied by J. Faria's  Meio Seco (medium-dry) 5 Years old Madeira wine. This good value wine enhances an every day dish.
The recipe is available at the IVBAM listing.
Skipjack Tuna Tartar with Parsley Vinaigrette and Escabeche Onions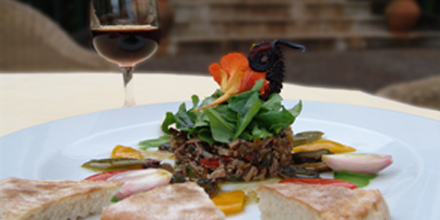 Tuna is widely found on many restaurants menu's often displayed in the fish displays.
A 10 Year old Verdelho or Medium Dry Madeira Wine is recommended to accompany this dish.
The delightfully simple recipe is available at the IVBAM listing page.
Fish Stew with Spring Flavours: Madeira Groupers, Seafood and Shellfish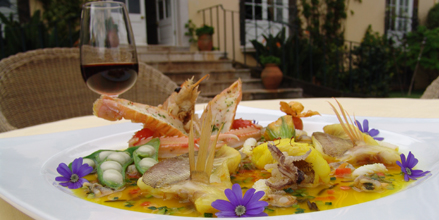 Fish stew, often seen on the menu as Caldeirada is a typical Portuguese stew, this is probably a little more special, it certainly looks it.
A 10 year old Sercial is recommended with this seafood dish, or a dry Madeira at the very least, but I would really advise the Sercial.
There is a veritable list of fish included in this recipe.
Again, the recipe can be found at IVBAM.
Thai Prawn Soup with coconut milk and orange oil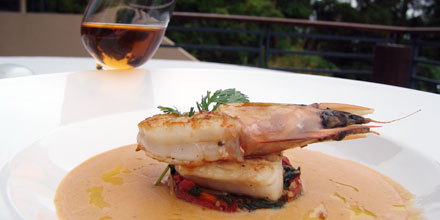 An interesting choice, but Madeira is a versatile wine indeed and can accompany many fragrant and spicy dishes very well indeed. A dab of Malmsey on your wrist will (when dry) exhibit quite spicy aromas such as fenugreek and other deep scented note, indicating its robust nature.
A  Verdelho is recommended to accompany this dish, or a well made medium dry Madeira of 5 years old or more. I would suggest a 10 year old Verdelho.
As ever, this interesting recipe is available at IVBAM.
"Low Tide" Madeira fish trilogy of limpet, mackerel and swordfish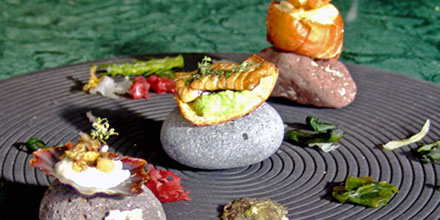 Another seafood recipe from Madeira, but this time aimed at the tapas style of dining.
This tapas dish is recommended with a 10 year old Sercial Madeira wine. In my view Sercial only really comes of age at 10 years old.
This dish contains limpets which are the only really native shell fish in Madeira and are fresh and salty and require a "good chew". The dish is served with another Madeira favourite grown widely is sweetcorn.
You can find the full recipe at the IVBAM  listing.
Câmara de Lobos Risotto with skipjack tuna and rock crab in escabeche sauce and oyster sauce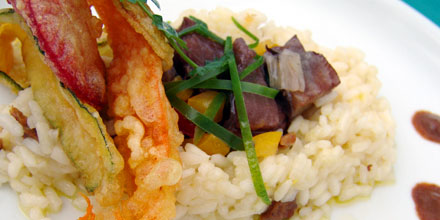 A dish emanating from Câmara de Lobos which is still a very busy fishing village as well as being home to both Henriques and Henriques and Barbeito who produce some excellent Madeira wines.
Câmara de Lobos is also a busy wine growing area having some of Madeira's best vineyards benefiting from its southern aspect.
Not surprisingly a Sercial (or dry Madeira is recommended with this wine), but slightly more surprising a 5 year old Sercial is suggested. I would consider Henriques and Henriques Monte extra dry Madeira a good choice.
The ingredients and instructions are available at IVBAM
Chicken livers and Swordfish roe in Madeira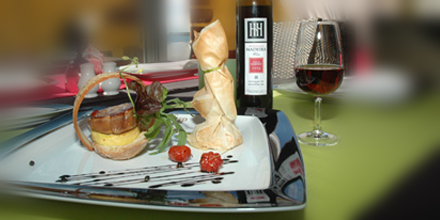 An interesting combination with a Colheita or single harvest wine that is medium sweet, so a not so young Boal would work well.
The ingredients and instructions are available at IVBAM
The more typical and traditional Madeiran restaurant fish menu will look like this.