Wines produced in a solera manner once included Madeira wines.
Sherry is famous for its Solera production process with barrels racked high above one and other as the old wines are drawn of from the bottom layers, they are topped up with wines from the layer of barrels above, till at the top most layer new young wines are added to the Solera to re-charge the aging process.Natu
In this way Solera's were established many years ago in Madeira as well, though the process seems to have died out in the main.Quite why this has happened is not clear, but it is believed that when Portugal joined the EU and its wine industry was subject to reform, somehow the Solera process used in Madeira was overlooked.
Naturally in this process the wines are actually a blend of different ages and when the process ended and the wine bottled is useful to know as well.
The Blandy verdelho wine shown below was bottled in 1988 so was aged for 118 years in the barrel as part of a canteiro process of maturation.
Blandy's describe the wine as follows: it is of a clear topaz colour with golden nuance.
Characteristic, complex bouquet with notes of phenolic flavours wood some spices and dry fruits.
Medium dry, fresh bodied, concentrated, long aftertaste with notes of resin and spices. 
If investing in a solera wine take advice or buy from the bottlers as provenance is important as these wines will be pricey indeed.
Blandy's also offer a Solera dating back to 1870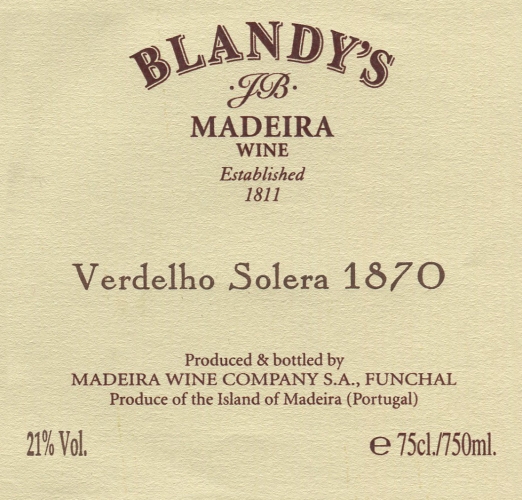 Very old bottlings can still be found, such as this one from Henriques and Henriques as shown below: