Quinta do Moledo Red and White DOP Madeirense…..note this brand is changing to Quinta do Ribiera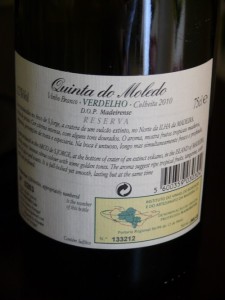 João Mendes has vineyards in Arco de S. Jorge and Ribeira de S. Jorge, growing the white vine varieties of Verdelho and some times a little addition of Arnsburger and for the red varieties Cabernet Sauvignon and Merlot.
The red tinto is made from Cabernet Sauvignon and Merlot.
The white branco is made from Verdelho and sometimes Arnsburger is added.
The label tells us that this wine is made from Verdelho and is indeed a Colheita and the grapes are grown in a very defined part of the island….Arco de S. Jorge.
Arco de S. Jorge is a very closely defined area of Madeira as it is an eroded volcanic crater with a unique micro climate that ensures a rapid ripening of the Cabernet Sauvignon and Merlot grapes grown there.
The white is a smooth and refreshing wine with the tastes of fruit…a note of passion fruit that is quite typical of Verdelho grape.
The red is also of good quality reflecting a well made wine, but still one influenced by the terroir than the grapes. As with many Madeira's reds the wine needs decanting and time to breathe to allow the grape to overcome the oak and terroir. If you persist a pleasant red is found that is suited to cheese, ham and game.
The wines from this producer/bottler that are not considered to be of the highest quality and can be bottles as Colheita's are included and  marketed under the Rocha Tinto or Rocha  Branco wine label.
The Rocha soubriquet is used when the producer feels the wine is not of Reserva quality and the wine is bottled as Rocha Tinto or Rocha Branca, with Quinta do Moledo only being bottled in good years.
Here is a list of Madeiran table wines Atlantis, Barbusano,  Cabeço da Queimada, Casa da Vinha, Colombo, Enxurros, Palmeira e Voltas, Pedra de Fogo, Ponta do Tristoa, Reis da Cunha, Seiçal, Terras do Avo,  Torcaz, Xavelha
You can read more about this and other Madeiran table wines in this article from the Dulwich wine society.